Search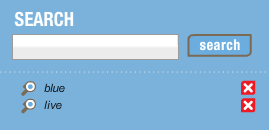 At the upper left corner of the screen the latest searches are bookmarked. If there is no match with the searched item, the search screen will close automatically after a couple of seconds. The bookmark will also disappear from the list.

Start by searching for a clip by using the search field in the upper left corner. After searching for an item, a list of items that match your search will be displayed.
6.1

Multi word search

Searching for multi word titles or descriptions can be done by enclosing the search in quotes. So when searching for This search string this will be "This search string"