Main screen
The main screen will now appear.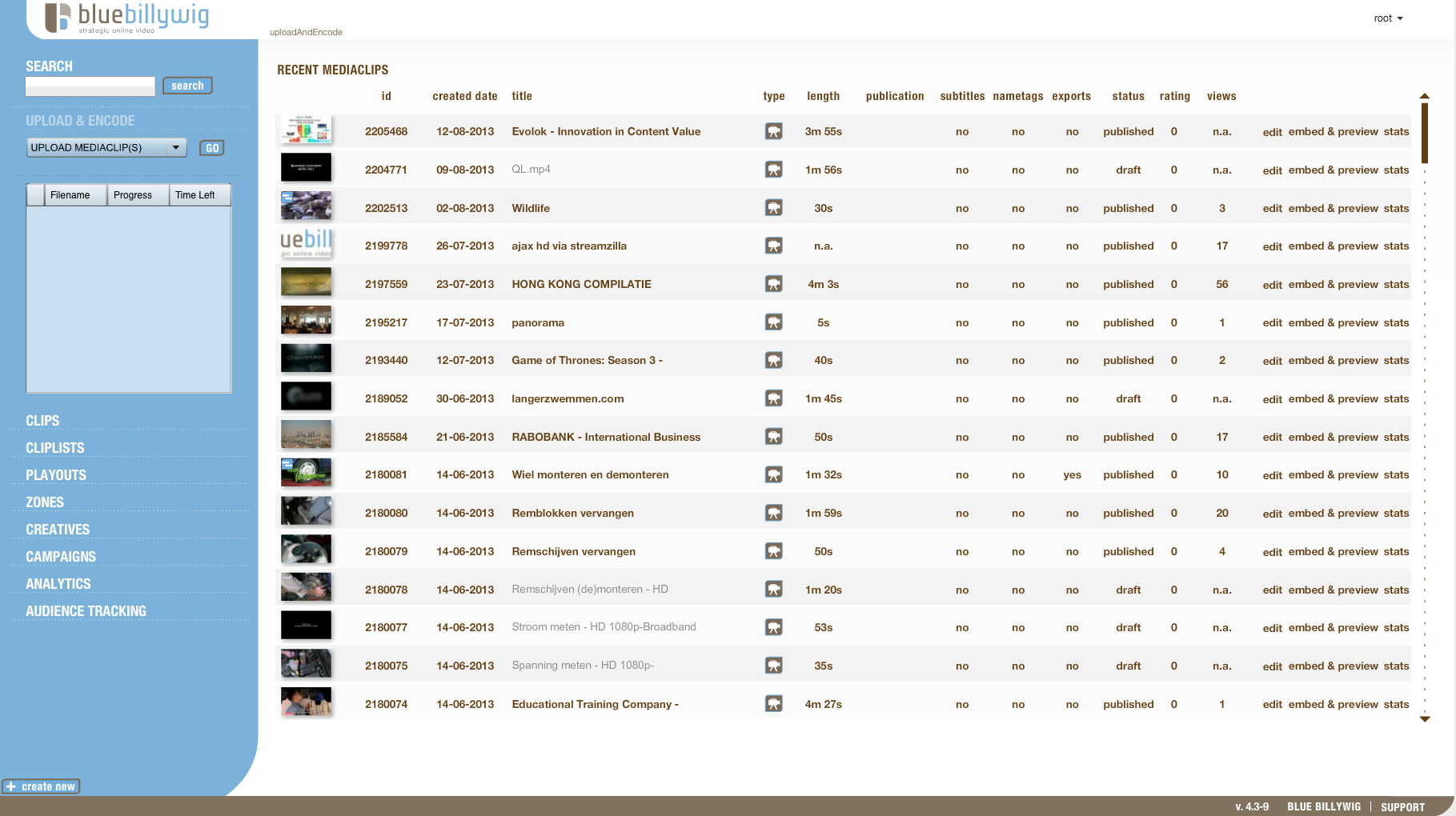 Figure 3.1 Main screen
The header after login consists of Blue Billywig logo at the left, and your company logo on the right. Next to the customer logo, there is a dropdown menu.

Figure 3.2 VMS Header
The main menu is where "Usage statistics", "Settings" and the "Log out" button can be found.

Figure 3.3 Top dropdown menu
3.1 Main menu Items
3.1.1 Usage statistics

Figure 3.4 Usage statistics
Clicking on the top right button, where the account name of the currently logged in user is shown, will open a menu. Now click on the Usage statistics button. This screen contains the number of clips that are uploaded, as well as the number of stored clips. The number of stored clips is cumulative.
3.1.2 Settings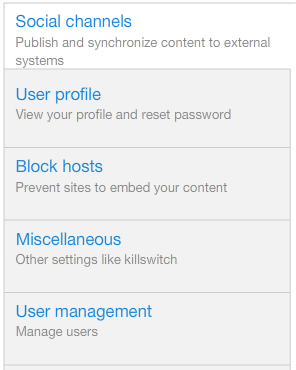 Figure 3.5 Settings
Clicking on the top right button, where your account name is shown, will open a menu. Now click on the settings button. This screen contains 5 different settings, namely: Social channels, User profile, Block hosts, Miscellaneous and User management.
Note: The User management menu is only enabled if the user that is logged in is an admin user.
3.1.2.1 Social channels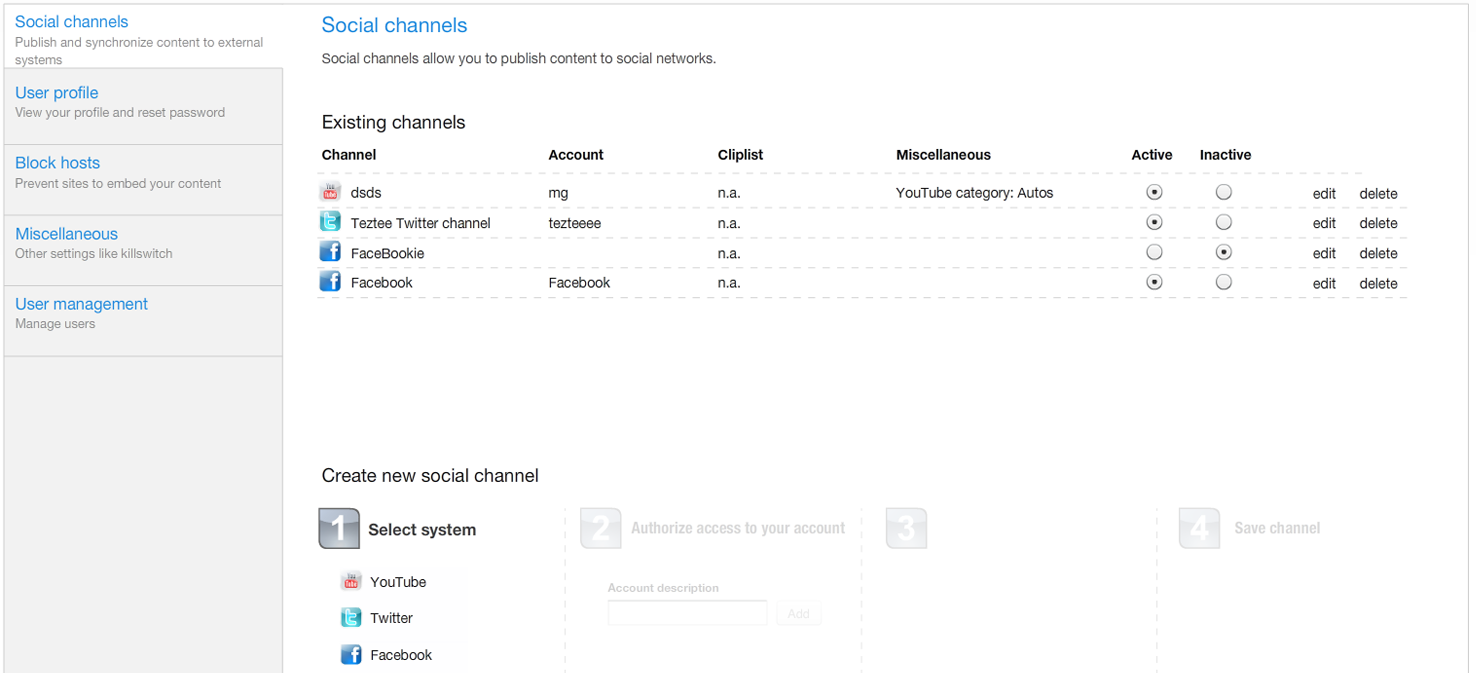 Figure 3.6 Social Channels
This screen contains the social channels that are already configured and will be used to create new social channels. At this moment there are 3 social channels, namely: Twitter, Facebook and YouTube. Social channels will be explained extensively in Social Channels.
3.1.2.2 User profile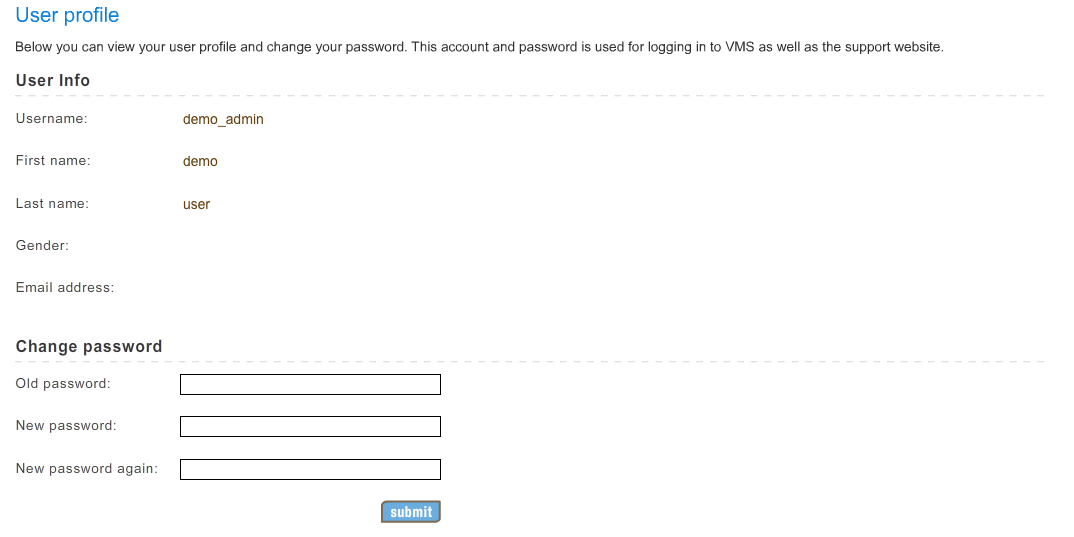 Figure 3.7 User profile
This screen will show basic information about the user logged in at this moment. This is also the place to change the password.
3.1.2.3 Block hosts
Figure 3.8 Block hosts
With this option it is possible to prevent external sites to embed video's. Type in the website you want to block in the upper bar and click the + button next to it. This will add the website to the list. Clicking the save button will complete this action. It is also possible to block a domain like "www.example.com/video" or just a single page like "www.example.com/video.html".
3.1.2.4 Miscellaneous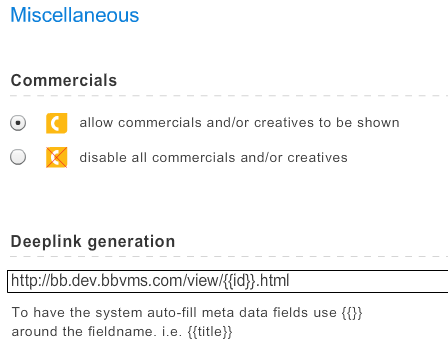 Figure 3.9 Miscellaneous
Here the commercial "kill switch" resides. When allow all commercials to be shown is selected, it will show commercials that are selected in the playout. If there is no need to show commercials select disable all commercials. It is also possible to change the deeplink.
3.1.2.5 User management

Figure 3.10 User management
For administrators it is possible to manage users, reset passwords and add users.
3.2 Left Menu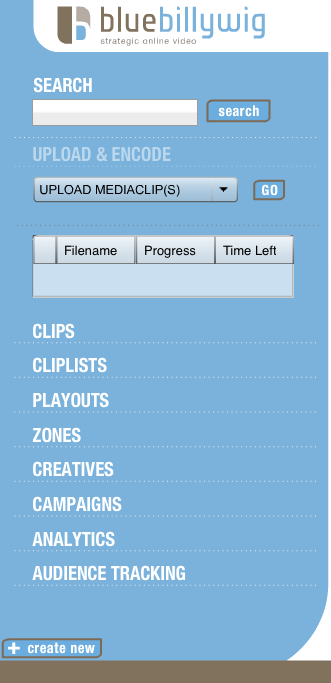 Figure 3.11 Left menu
The menu on the left has many options which will be described in the following sections.
3.3 Upload and Encode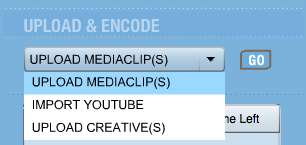 Figure 3.12 Upload
Use the go button to upload a video file or a document. By pressing the down arrow, a dropdown menu will be shown. Creatives can be uploaded by selecting Upload Creative(s). The creatives are additional assets for a video (eg. images, commercials, audio, text and documents).
3.3.1 Upload youtube video

Figure 3.13 Upload Youtube
Search a youtube video to upload using your browser. The figure above shows the youtube watch url. The watch url in this example is: https://www.youtube.com/watch=?v=3oXpc-59Cdo. Press the down arrow located next to Upload Mediaclip(s), and select Import youtube. Paste the youtube watch url, and press go. Now the youtube import will start. After the import has been finished, the video is shown in the clips overview.