Analytics
Analytics gives a thorough insight of all the statistical information about each clip.
13.1

Select a date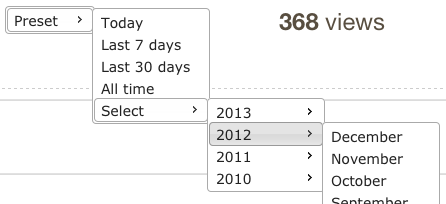 Selection by using the date quick selection (preset) tool. This can be used to select today, the last 7 or 30 days or the All time selection. To select current and previous years, hover over Select to see the years. This way it's also possible to select a month from a year.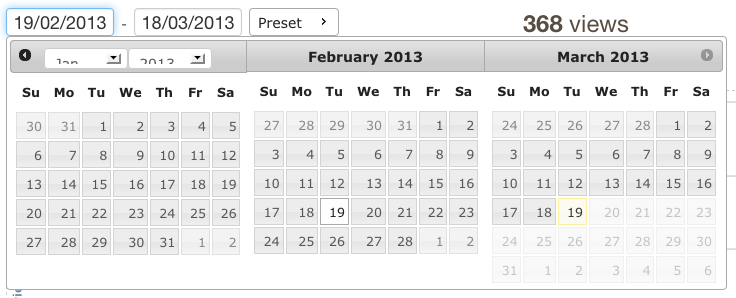 Selection by using the date selection tool. Pressing the left date will select the from data, while the right date will select the to data. This will change the graph screen and world overview as well, to reflect the selected from and to date.
13.2

Views
Analytics show the the number of views from the selected period. This graph is also used to show multiple lines that contain certain filters, for example, countries, browsers and numerous other filters.
13.3

Data overview

This will show the number of views and the number of unique visitors. Player inits are the number of times someone will open a page on which a player is embedded. Creatives are the number of commercial views. The Data overview will disappear when a filter is selected.
13.4

Filter selection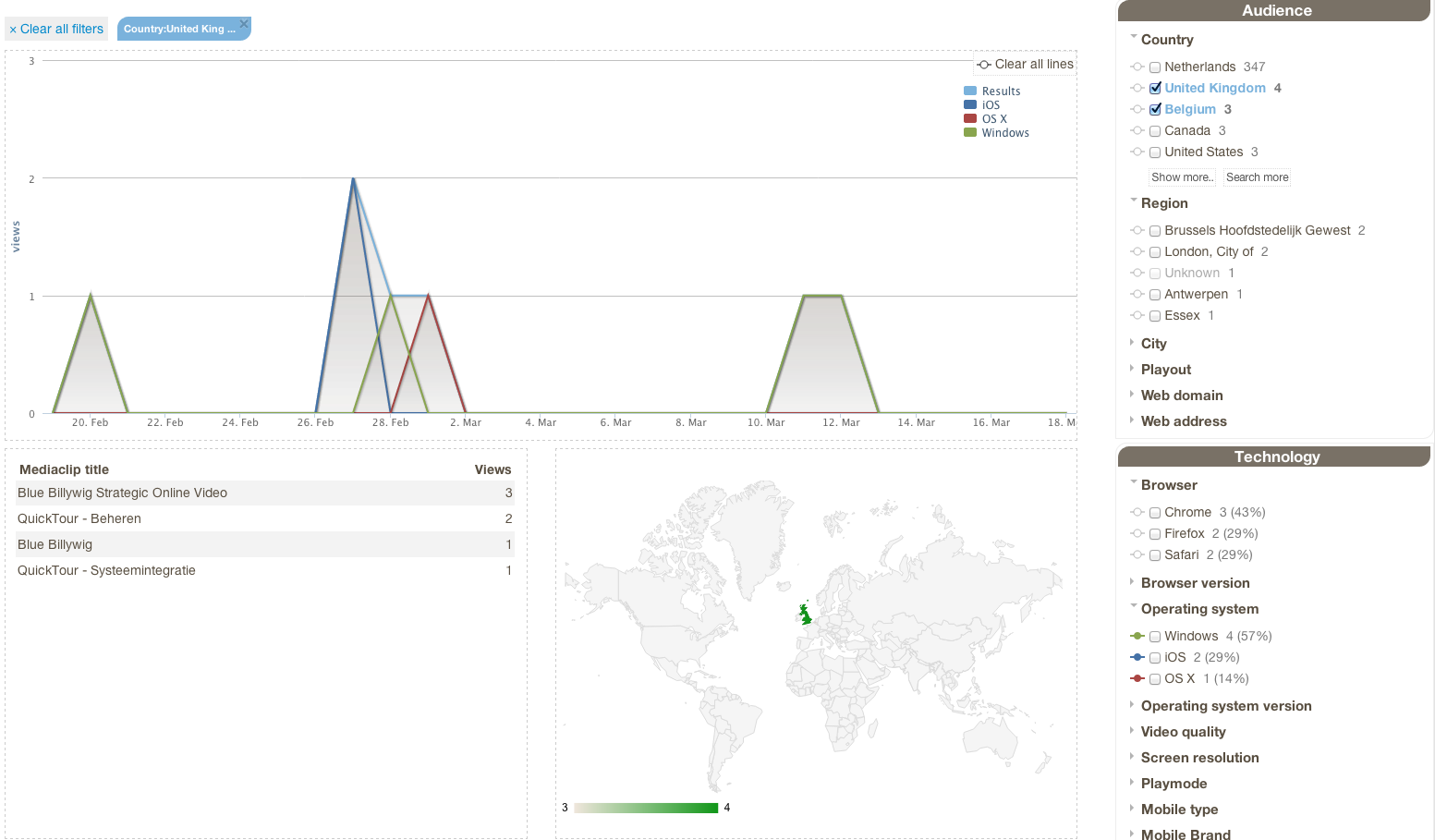 When selecting filters on the right side of the screen, the graph at the top, the most viewed at the bottom left and the world map at the bottom right will change accordingly. Selecting the dots in front of the checkboxes will add lines to the graph. See differences between for example, windows, iOS and OS X. The map graph will show where in the world the views came from.

This graph will show the number of views over a period of time. Selecting the dots in front of the checkboxes will show the lines that belong to that filter. The current filters are shown next to the "Clear all filters" button on the top left. On the top right under the "Clear all lines" button, there are buttons with the active filters. The picture shows the iOS, OS X and Windows as active filters. These are buttons that can be used to show and hide the lines as well.
13.5

Best viewed

The figure above can be found below the graph next to the world map. The best viewed videos can be found here. By clicking on a clip title the clip detail page shown below will open. It's also possible to get the mediaclip analytics from the clips screen described in Clip Search.

In the top left of the screen there's a player which shows a line. The line shows what bits of the video are shown most, and where the visitors lose interest. It also shows some mediaclip details, like duration, and number of timeline shows/clicks.