Overview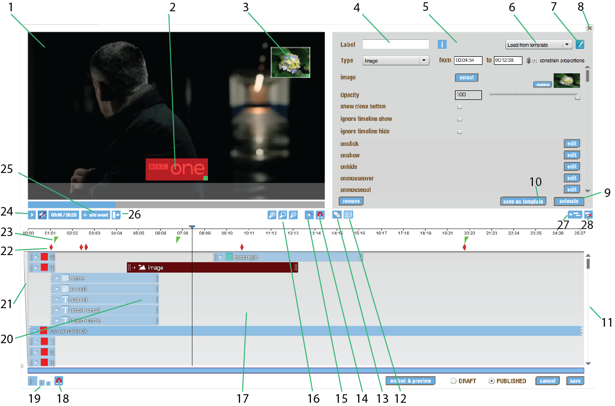 Stage: this is the area on which you can preview the size, placement and opacity of the timeline widgets.
An example of a partly transparent rectangle widget.
An example of an image widget.
Widget label. This label is useful for finding the widget when adding interactivity.
The widget information pane. Here the selected widget can be configured.
The template lists. A widget configuration can be saved (10) as a template and applied to another (new) widget.
Edit templates. Shows a template list where you can delete templates that have become useless.
Close button. This will close the timeline editor and return to the media-clip detail screen.
Animate button. This will start the widget animation mode.
Save as template button. Saves the configuration as a template to be applied to another (new) widget.
Scroller. When too many events are on the timeline, this scroller can be used to scroll to the ones that aren't shown.
Forms button. Shows or hides the forms window.
Groups button. Shows or hides the groups window.
Snap to widgets. This enables or disables the snap to widgets functionality.
Toggle visibility button. Shows/Hides all widgets on the Stage(1).
Zoom video area. Use these buttons to zoom in, zoom out and reset zoom.
The timeline. This is where all the timeline events exist. It has three rows: main row for events with an in and out point, a row for chapter widgets(23) and a row for action-only widgets(22).
Event snap button. This enables or disables the snapping on timeline events.
Vertical scale. Use these buttons to choose between 3 different vertical scales.
Timeline widget. This is a widget placeholder.
Zoom slider. Zooms in on the location of the timeline scrubber.
Action-only row. This is the row for action only widgets.
Chapter row. This is the row for chapter widgets.
Play/pause button.
Add event button. This button will add a new timeline event at the timeline scrubber position.
Widget list panel. Opens or closes the widget list panel. This list panel can be used to change the layering of widgets.
Import timeline button. This will import all widgets from a timeline of another mediaclip.
Clear timeline button. Removes all widgets(20) from the timeline.